20,000 people:  19,782 of them women at least!   The NAEYC Annual Conference began officially today — 20,000 people involved with young children – what a sight!
Daughter, Granddaughter and I left yesterday morning.  We had a planes, trains, automobiles, and even a couple of buses kind of day (Not to mention hauling luggage up two flights of stairs in the Baltimore Amtrak station because the elevator was broken.  Somehow I never manage a trip without doing that.)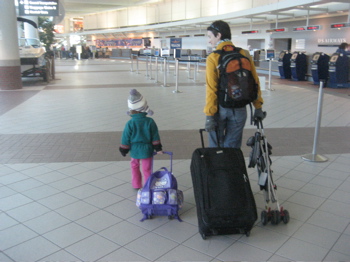 Today I went to a preconference day hosted by ACCESS and NAECTE.  It was interesting, which I'll write about another time as I'd like to do some research on the presentor.   Daughter and granddaughter went off to the Natural History Museum joining me later for the Exhibit Hall Opening.
20,000 people who work with young children.  You would think we could at least move a few mountains together; but somehow we've not managed this on behalf of these young children.