Yesterday I celebrated my husband's birthday with him.  He wouldn't want me to say his age, but let's say it's the 40th time I've shared his day!  We spent i enjoying an hour's drive to Mt. Snow where Vermont Life was putting on a wine tasting and outdoor event.  There were wines, ciders, cheeses, and crafts.  I was surprised there weren't any ice creams, and I did suggest that they invite coffee roasters do join them next year.  And to put those coffee roasters at the end on the way out!
It was a lovely Vermont day.  And, it tickled us to be at Mt. Snow.  One of our very first trips in the winter of 1972-73 was to this ski area.  We had a newly outfitted van and were trying it out.  We parked in the lot – something I bet not possible today – and slept in the van so that we could be first on the lifts.  It rained a bit in the night inside the van – yes, inside the van – as our new propane heater did its thing keeping us warm, but causing condensation as well!  But, we were first in line that morning.   And, the fun yesterday was entering one of the buildings and noticing that actually it was the main lodge and really had not changed much at all!  Deja vue….lovely.
Nana wasn't thrilled about her son's actions in those days –  actually, she was rarely thrilled ever – at least that's how I interpreted it.  Our relationship was new, brand new, that winter, and his parents felt he was too young to choose a life mate.  And, my Irish Catholic working class background didn't help.  There were rough years ahead for us in our relationships with his parents.  But, I'm proud it never got antagonistic.  It was always a quiet stand-off, sometimes I think we surprised her and his father with our common sense and certainly they approved of our gorgeous children.
Nana's garden honors her, and now her husband.  This year it's had a good year – given there was drought, and now heavy downpours.  I grew dahlias, her favorite flowers, along with lavendar and rubarb and a few other perennials in her garden.  Three colors of dahlias — I think next year I'll try for more.  The yellow dinnerplate dahlias are spectacular.
There's only one blooming today, but I did have to cut several for the Franklin County Agricultural Fair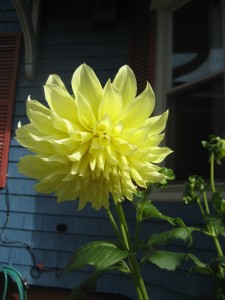 last weekend.  Where, I pretty sure I'd surprise my mother-in-law by the fact that I won a 3rd place ribbon in cut flowers!