Hola!
We have succeeded in moving ourselves to Barcelona from Salamanca! It took all day Saturday and 3 trains. One 2 1/2 hour from Salamanca to Madrid, then a 1/2 short local hop to the other train station and then the high speed train to Barcelona. That was another 3 hours; it would have been many hours more without the high speed train. It travels about 150 miles an hour!
We had an oops and actually didn't have our apartment for the first night in Barcelona. Fortunately we figured this out in Salamanca and called ahead and they had one night free in another apartment. Up two flights of spiral staircase with two 50 lb bags! We thought it couldn't be worse; but our new apartment in on the 3rd floor (4th as America measures it) and the lift is broken!
But Barcelona, as many tourbooks describe it, isn't Spain anymore….very interesting place so far. Much larger, noiser, more tourists, but beautiful. We are in the old Gothic quarter and it's very lovely (and a bit noisy).
Yesterday morning (Monday), daughter and baby and good friend arrived to spend a week with us. It's a tiny apartment so the fun is just beginning! They baby traveled well, even though sleeping little.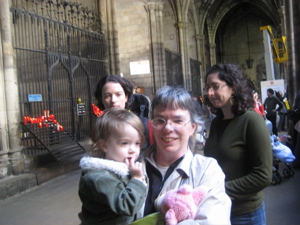 It's wonderful to see them. We've already had a great walk through the cathedral of Barcelona (where this pic was taken); found a small playground, and the baby's been admired by many. The Spanish adore children and will stop you to chat about the baby, or just walk close enough to touch them and say something sweet about them.
As we suspected, we don't have connection in our apartment; and it's almost worse here than any where else; even though it's a huge city. We are currently using the computer room in a branch of the Spanish school we went to; but it's a good half hour walk away. Otherwise you have to pay a few euros to use terminals in Subway (yes that Subway!). But check back; I'll post as often as I can.
We're planning a trip to the beach and the important Gaudi sights as well as other adventures.