Our next to last day in Nice. Tomorrow we transfer from the current hotel we're in a block or two away to the hotel that is the official start of our "Flavors of Burgendy & Provence" River cruise. We're having second thoughts (and that's all they can be!) and hoping we enjoy being with a tour group again! We have really enjoyed going at our own pace; and hope that each day is not filled to the brim with following 40 other people around and not really seeing what we'd like to see….
I don't know when I'll be able to post again, so keep checking in. We're told that there is internet on the boat; but we've learned that here in Euope that phrase means a lot of different things!
This cruise takes us up the Rhone and we will arrive in Paris on May 21. The last day or two is in a bus. The itinerary is exciting and so we are hopeful we'll enjoy ourselves!
We're really enjoyed Nice. It's a huge tourist destination – apparently it's been so since the late 1800s when British, French and Russian royalty came here to play. The beachline is beautiful, the water exquisite, and interestingly to me – the beach sand is not so pleasant. The beach is small rocks, not sand at all. Anywhere there is sand, it was added on top of the rocks by the hotel that owns the beach front.
Here's a few pictures of Nice. The weather is lovely so far, although we're told it may rain tomorrow.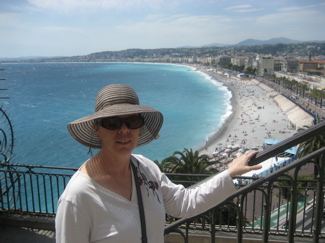 This is me at the top of a hill where a very old castile used to exist.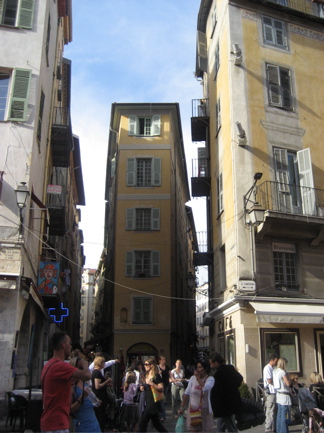 Some of the very interesting buildings here in Nice.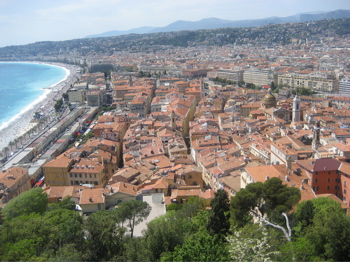 Old Nice from the top of the hill.
And, while I'm on, I want to put up a few pictures of Cadaques where we were a few days ago. We went on a day trip from Figueres (Spain) in order to visit Dali's home.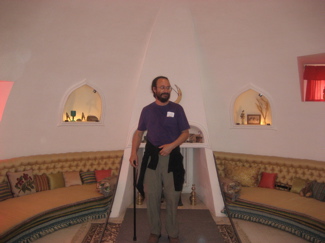 This is Rich in the middle of Dali's house in Port Llagt. The room is a peribolic room; when you talk in the middle it does this wierd bounce back at you.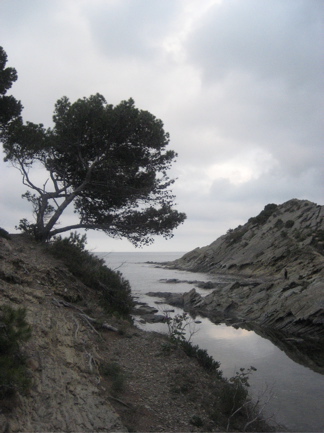 The beautiful view from our hotel.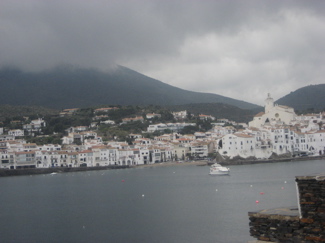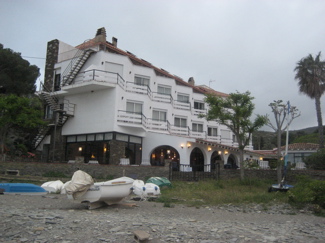 Our hotel in Cadeques.
So, hopefully I'll see you online in a day or two once we get settled on our river cruise. I look forward to being back in the states soon; but I'm still having way too much fun for it to be tomorrow!