Goodness, that was a long stretch without posting, wasn't it? Hope you are all checking back in!
We have just arrived in Paris from a week cruising on the river Rhone and Soane.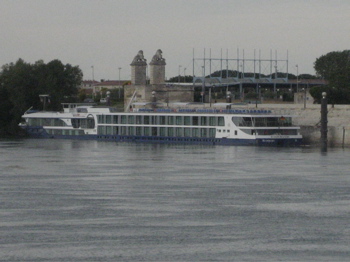 This is the boat when we arrived in Arles.
It was a small boat holding only about 125 people with, best we can figure it, about 25 crew. Although the company promised an "Internet Corner" and access, it really wasn't that true! The connection was often down (we were told it was due to the satellite – hubby, knowledgeable about such things to say the least – said it was how the system was set up), and went it was up, it was (as Gramma used to say) slower than molasses! So needless to say we got nothing done online, and used what time we could get connection to get a hotel in Paris. Neither of us could use our own laptops. And we won't talk about the charge for using it….
But we had a wonderful week. Each evening, after dinner, was a little entertainment, sometimes while we cruised, sometimes while docked. A few nights was, in all honesty, a terrible lounge piano singer! One night, however, we were surprised with a local band to the lower Provence area: the center musician is a member of the Gypsy Kings! WOnderful!! And hubbie had a dance with their dancer!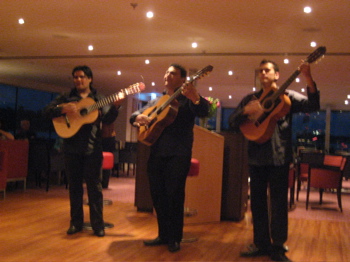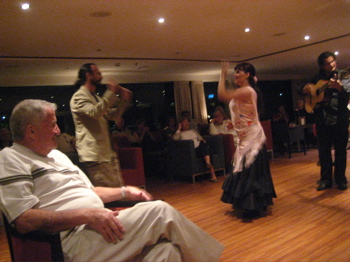 We saw several medieval villages along the river, or even inland, as the tour had options of taking a bus for a couple of hours in the afternoon to see other villages. The boat itself was lovely: quiet, restful, food was okay, the other travelers fascinating. The boat is run by a German company, and so the food was more German in nature than French, but it was very good, and we enjoyed the fact that the servings were a nice size – not huge! This is important in cruising as there's a lot of food!
Here's some of the towns we experienced: Nice, Arles, Avignon, Carmargue region, Lyon, Macon, Marseille, Tournon, Vienne, Beaune, Viviers, and Oingt! These are only a few of the villages we stopped at, we saw many more from the boat.Really quite amazing….
I hardly know where to begin to share. We took almost 700 pictures (thank goodness for digital format). We tasted wines, saw flamingos, and beautiful white horses, walked in ancient castles, cathedrals, and breathed the beautiful air filled with the scent of lavender.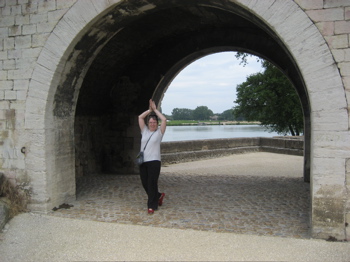 …dancing under the bridge (remember the song?) of Avignon.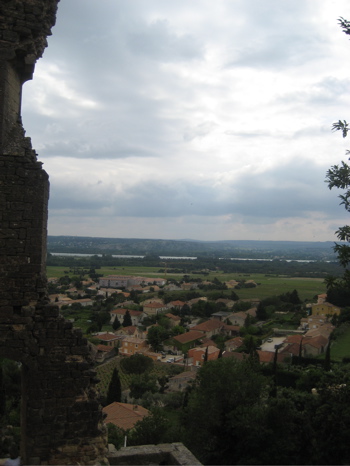 This is a picture of the town of Viviers from castle remains on the top of the hill. We heard an organ recital in the medieval cathedral surrounded by tapestries from the 13th century.
We went through many locks and under bridges. One of the locks was the second largest in Europe! The skydeck where the bridge and lounging chairs are located were designed to be very flat for going under the bridges. For one particularly difficult bridge we were sent downstairs – the clearance was 2 centimeters! Here's a photo of the clearance for one we were allowed to be up top for – but we had to remain sitted! That is a underside of a bridge!
One village was more beautiful than another! Here's a sample for you….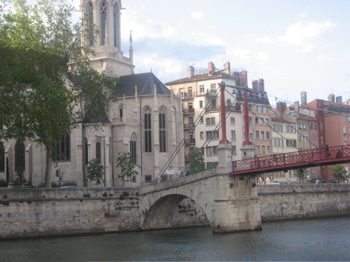 it was a delightful week. I'll trip to post a few more over the next few days. We are in Paris for four days and hope to have good connection.