…a great day in Savannah that is!  We had a quiet beginning because we both had some work to do and the weather report was for rain.  Indeed it was raining.  We started out about lunch in light rain and visited the Savannah Historical Museum and the SCAD Museum of Art.  This first picture is a cotton gin and a 500 pound bail of cotton.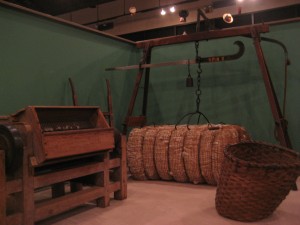 For our daughter — a quietly taken picture of an original Shakespeare Fourth Folio!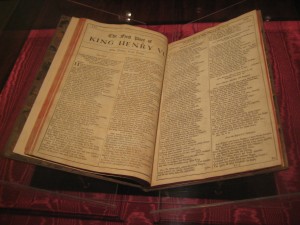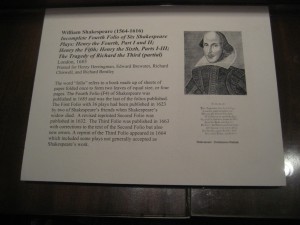 Once finished at the SCAD, it began to pour cats and dogs.  Off we trudged a few blocks to find that the next museum we were going to visit was closed!  And, then a trudge through the pouring rain to find out that the next museum where we were told the other day a new exhibit would open this week in truth the exhibit was to open next week!
Okay, off to find some food and try to dry off — here's where you eat when you are soaking wet and have no wish to run any further for a meal (pretty good sandwiches but NO hot tea or coffee for sale – WHAT?!)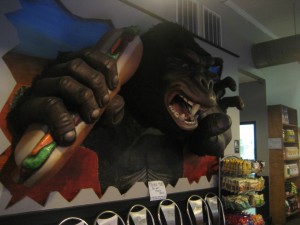 Name of Restaurant:  Larry's Subs  (New York Deli Style says the window out front with bathrooms named Kong and Fay)
Then back to a museum where a flyer had said there would be a workshop on Augmented Reality — guess what?  No surprise — it wasn't at that location and needed a car to get to — so we weren't going to be doing that either.   So, the heck with the whole thing — finally the rain slows down and we are able to walk several blocks home without getting too much wetter.   (Deal of the day found in a shop still open a few blocks from our apartment:  a $155. sweater on sale for $38)
Today proved that our last minute packing was not good — we brought along a small umbrella that was hiding a broken spoke; and we didn't even pack our very good packable raincoats.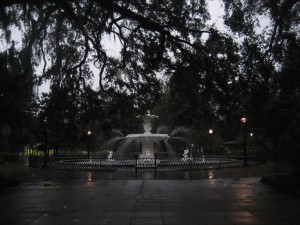 This is Forsyth Park Fountain in the pouring rain (a few blocks from our place.)
Annie's Mac and Cheese for dinner.  At least these are the days that vacation apartment renting is for: no empty hotel room to go back to; but a sweet house with kitchen and the ability to make a nice hot cup of tea!  This picture was taken yesterday before the rain hit!