As our delightful American tour guide called it — we had a "lie-in"  — we got to sleep in and relax over that delightful breakfast spread this morning.  We sat with a wonderful couple from LA – Jerry and Sandra — over breakfast.  We really enjoyed getting to know them.  I know that if we didn't live on different sides of the US coast, we'd really enjoy dessert and museum outings together.  We hope in the future, should we go to LA again, we'll stop by and say hello to them.
So onto the bus at 10:30 to go to the Rosario Cardenas's dance company  – Company  Danza Combinatoria – to see eight dance pieces.  These dancers were nothing short of amazing!  They were equivalent to the best in America; and we got to watch them perform in their studio.  Wonderful!  After they danced for us, they were kind enough to put music on and guide us about the dance floor for several minutes!  So welcoming, and tolerant, of them!  (A fellow tour participant put up a video  —  Okay – apparently we are on YouTube already!! look at about 7 min for the 'real' dancers)
Even more delightful was the boxed lunch we shared with them sitting on their dance floor and talking to them.  It was a very huge bagged lunch, with much left over which we left for them to devour.  I very much enjoyed the experience of eating a guava whole as they taught me to do.  I, of course, forgot that I should have washed the outside of it first.  But, it was okay.    This really was one of the highlights of the tour for me.
We were then taken to a very large souvenir marketplace inside of an old train building.  There were what seemed like miles of art – prints, painting, naked ladies of all kinds (these really were just short of velvet paintings that you could hang over your basement pool table area!), little booths of souvenirs galore!  In retrospect, a half hour was not much time.  We did buy two pair of maracas – she wanted 7 cucs for one pair, and somehow my bartering got two pairs for 5!
We did buy a wonderful little print by   Eduardo Guerra.  We saw it, circled around a bit, and went back before we had to leave to buy it.  Here's a little YouTube piece that someone created where you can see what his work is like.  We went back to the bus to find the guides and bus driver had hired a couple of clean the front area and the lights, etc. So when they were finished, off we went.
We were then driven to the Capitulo building which was closed for renovations, but we got to walk about it for about ten minutes and take pictures.  It is a replica of the US Capital building – very surreal to see there in some way.
The bus stopped back at the hotel to drop off a few folks who were not interested in more art studios, and off we went to visit a beautiful art gallery in a house.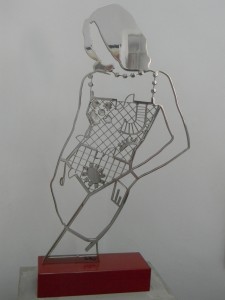 Back to the hotel for a siesta by 3:30.
Dinner was at El Ajibe where we had a traditional Cuban dinner.  (Lonely Planet ranks it #6 in things to do in Havana!)  It actually was one of the best meals of the week for me.  I really enjoyed it, and was able to have another good sangria.
Back to the hotel where we sat and had some wine lounging in the lovely couches on the back courtyard listening to an all girl band, and a male and felame opera singer.  Lovely way to end a busy day full of the arts!