Tomorrow morning we leave for Alaska!
Another destination that has been on my personal list since I was a child; and one hubby and I have shared! As usual, I'm nervous about the flying part — never ever my favorite part of the event. But, with enough decongestant and airport food; I'll forget!
We hope to have wifi every few days to post pictures — so join us if you can!
The packing has been an interesting part of this trip. There's not a piece of clothing in this luggage that isn't intended to layer and peel as weather requires! I do believe at least 7 lbs of each piece are the boots alone. From t-shirts to fleece coats; we probably have too much! But hidden in this luggage is also a duffel — it will make it easier to lug the hiking boots and rain gear while we're there, and just might end up being checked on the way home with all of our souvenirs!
We start in Anchorage on our own for about 5 days — check out where we're staying: Mahogany Manor. Then, we'll be joining a group of other folks led by a professor emeritus in geology for 2 weeks.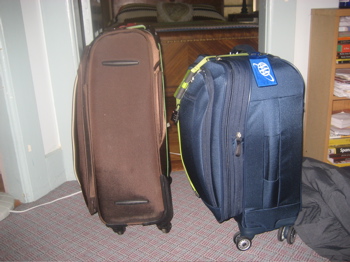 Here's to Alaska here's to the people
Here's to the wild and heres to the free
Here's to my life in a chosen country
Here's to Alaska and me
P.S. If you know Rich and I, you'll know whose song these lyrics are from!