All day I say to myself, "I need to blog about this – no, about this, no about this, or what about this?"  So it comes down to that I wish anyone reading this could be with me on this trip.  It really is turning out to be even more delightful than I had imagined.  And that says a lot because I imagine BIG!
In 2008, hubby and I came to Spain for a good part of a four month sabbatical.  (If you are interested, just search for the other entries in the blog from that time period under sabbatical.)  We enjoyed many cities of Spain, most in the south and east side of the country.  We had hoped to get to the west and north of the country, but it was just too complicated and would take too many public transportation methods to achieve it.  We did not rent cars during that whole time, but used public transports.  We'd always wanted to come back and see the north and west sides.  Well, this trip began in Portugal and has taken us so far exactly where we wanted to visit.   (Here is the trip we are on.) 
Today we enjoyed Bilbao.  I'm in love again as I have found myself with so many Spanish cities.  But, although I will not do this justice, we have learned that this is first, and foremost, the Basque Country.  Their language is fascinating, the food exquisite, and the people generous in their dealings with we Americans.
(Let me insert here an opinion I always have when I travel – it's time that my fellow English speaking Americans become bi-lingual…..)
The city of Bilbao is gorgeous.  The rain and clouds in the sky just enhance its beauty — its history of coming back from economic decline is interesting and I think other municipalities could likely learn something from it.
The Guggenheim is an architectural wonder, and the Museum of Fine Arts is a real gem.  (Stay tuned for a posting in We Love Museums about that when we get back.)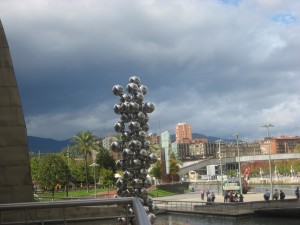 Put this place on your list.  I'm putting it on my list of cities to come back to and stay in for a month!