What a busy third day we've had!  And, best of all, the New England sun came out today!   It ended up quite hot by the afternoon making the afternoon sessions a challenge – not because the speakers weren't interesting – but because the heat was trying to whisk us to dream land!
After a nice breakfast, we met at Canterbury Village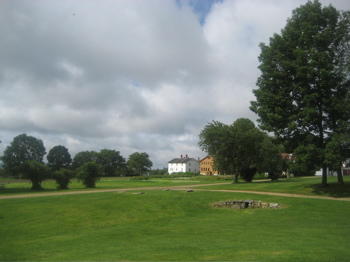 and split into two groups.  One group went on a special textile tour (sorry I can't tell you much about it) — the other group which hubbie and I joined — went on the hike that took us to 3 of the 8 ponds built by the village in the 1800s as well as the Feast Grounds.  It was a beautiful morning, cool but progressively sunnier as we went along.  We had to hop, skip and jump quite a bit of mud and water, but what a wonderful hike.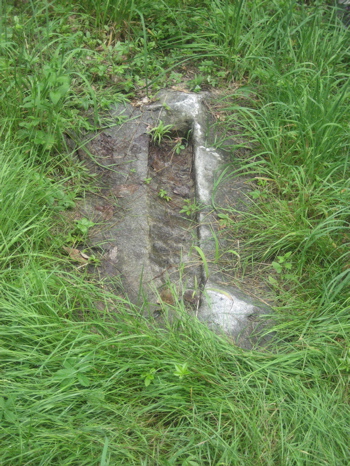 (Above, you can see the base of the fountain stone at the Feast Grounds)Â  After getting back, some one lots of us know took a dip off the end of Boy's Island (can you guess who it is?)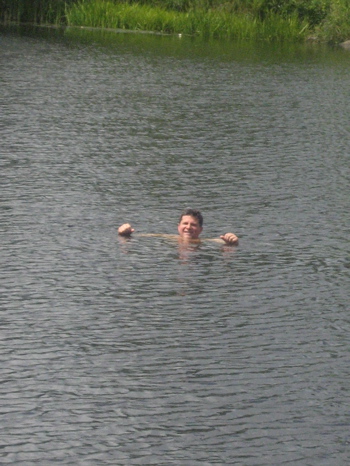 and we had lunch in the shade.
The afternoon was three sessions:Â Â  David Newell on Valentine Rathbun; Vern Squire on The Birth, Life and Death of Olive Branch and Jane Crosthwaite on "From Mary Magdalene to the Belved Elders in the Church at Shirley:Â  Bearing for the Dad, Conversations in heaven and the Problem of History.
THe day ended with sore feet, a nice dinner and a lively end of day Trading Session.
A few more views of our morning hike in the woods: