"The traveler sees what he sees. The tourist sees what he has come to see."  G.K. Chesterton
Just a couple of months ago, in September, hubby and I enjoyed an amazing trip with Odysseys Unlimited to Eastern Europe.  I had wanted to post each day while on our trip, but evening tiredness, and really slow connections put me off the project on a regular basis during the first few days, so I decided to just wait until the doldrums of winter here in New England set in to get some postings up!
As we usually do, we enjoyed several museums in the countries we visited, some with the organized tour, and whenever possible, we would go off on our own to visit others.
However, some of the best art is often out of doors!  And, in Prague, we found two (of many) very interesting sculptures.  One pretty large and obvious; and the other not so obvious.
Lots of people strolling by would stop and look for a moment or two at this fascinating every moving head — never longer.  Kafka's Head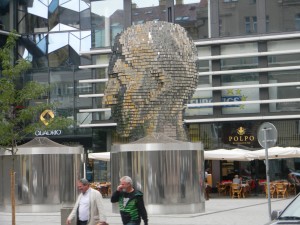 The other, although the street below was pretty busy with foot traffic, did not create much looking up until they noticed we were looking up!   "Hanging Out"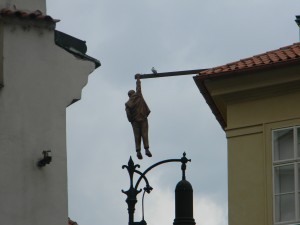 Search a bit on your own, and the internet offers many articles about outdoor sculptures in whatever city you might be touring, including these two pieces.
My point?  That I am always fascinated by the tourist who walks about the area – any area they are sightseeing in, and by the way, have generally paid a good deal of money to walk about in — who doesn't stop to really enjoy the art.  Discuss it, wonder at it, ponder the message, argue the silliness or effectiveness of the message you think the artist might want you to understand, form an opinion.
Please do more than walk by, look for a second, and declare it "stupid," "interesting," or "weird."  Try thinking – it's a fascinating thing to do while you are a tourist.