As my fellow Seminar attendees know, the title of a Shaker hymn from Hancock ca 1850 which we sang in farewell to one another 'til next we meet.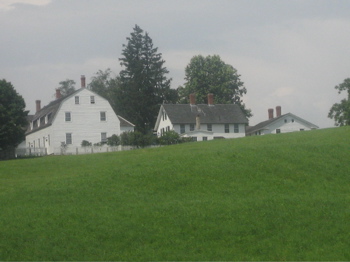 Sunday morning brought two final presentations for this year's seminar:  Rob Emlen presented "Picturing a Shaker Village:  How the public imagined the Shaker Landscape in 1835" and Steve Paterwic "Canterbury Takes the Lead" — both fascinating and interesting.  These workshops were held in the upstairs dining room of The Shaker Table, where we also stayed for quite a good lunch (to tell you the truth I thought the brunch food was far superior to what they had served us for two dinners on Friday and Saturday).
Hubby and I stayed another couple of hours to look about the village more and go on the Dwelling tour which we had not managed to squeeze in as yet.  We really had to hold a tongue a few times when the tour guide- truely doing her volunteer best — got a few things twisted.  On the whole though, she knew her basic stuff.  The biggest thing we wished was that she knew a few dates.  I think because the Shakers have a long history at Canterbury, it's important to name dates or you will, as tourist and visitor, assume they "always" did it that way.   It was a short tour and only wish we could have enjoyed it for a longer time.
We then took small roads home as we did not want to get on the local highway with everyone going home on Sunday night — only once the GPS suggested a road and it led to a closed bridge!  So we had to reverse direction; but then we got to see a pretty little one lane covered bridge, so worth the detour.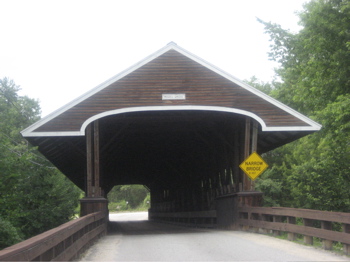 Home late and tired, with mud in the basement from a serious rain storm (yet another) while we were gone.