The last couple of days on our Alaska adventure have been phenomenal!  It has been consistently rainy (in fact Anchorage and surrounds are hitting a record of 29 days in a row with rain).  While the rain has dampened, well actually drenched us, it has not stopped our enjoyment or wonder at the sights of Alaska.
A day or two ago, we saw Portage Glacier by boat, then we walked to Exit Glacier on foot.  What is quite fascinating is the sheer size of these things — try to find the people in the photo of Exit Glacier.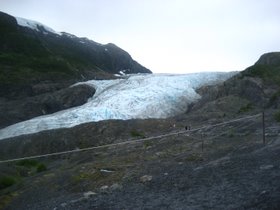 Can you see the people in this photo?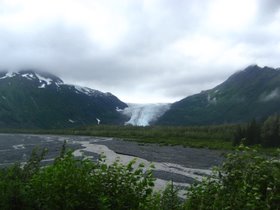 Here is Exit Glacier from the road a little ways away.
Today we encountered Aialik Glacier via boat in the Kenai Fjords National Park (as well as humpback whale, puffins, stellar sea lions, seals, and more).  The boat we were on was able to get within 1/4 mile of the face of the Glacier and we beheld the spectacle of it calving!  The sound is astounding.  I was close to tears with the wonder.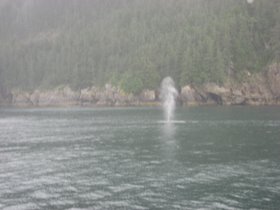 The spouting of a humpback!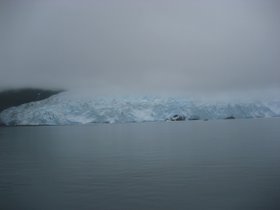 Here is the Aialik Glacier as we motor up to it — it is a mile across the front.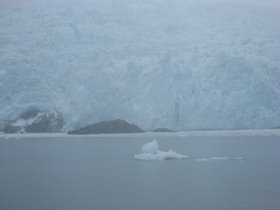 The same glacier with an iceberg in front of the it.  You see only 1/10 of an iceberg above the water.
The glacier up close — please remember that it is 600 feet high here!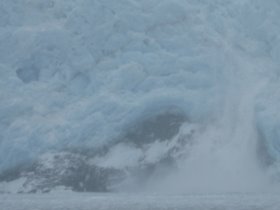 The glacier calving — huge groans happen, huge crashing of pieces of ice as large as cars from flying down!
The two pictures of the bear and folks at the tent was this:  the captain had pulled the boat closer to shore to allow us to see the bear when we all realized that it was strolling up the beach toward the tents and the folks were clueless that a bear was heading their way!  Just as we folks on the boat began to shout, they noticed the bear and began to do their bear shouting too!   (Yesterday on a group hike, our leader suggested to hubby and I we take a different route back to the parking lot from a hike to a maritime rain forest.  We went a ways and came upon bear tracks — we decided to turn around and rejoin our group!) By the way, for another lesson in perspective, that bear on the beach was 200-300 pounds – a juvenile.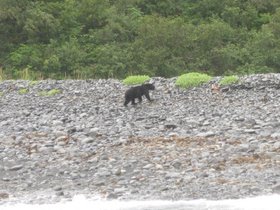 Bear by the people!
People by the bear!
American history, Native peoples history, and climate change take on a whole new meaning here in Alaska.