What do these items have in common?
Another great day at the Country School Association of America's annual conference!
My pictures aren't so great today as I choose to sit a little further to the side today.  I discovered a place in the room with a bit better light overhead and a little less air conditioner breeze and noise!
The keynote speaker today was Sue Anne Bottomley, an artist who has visited all 234 cities and towns in New Hampshire and painted something lovely from each place.  As many of her drawings included country schools, and her talk was a lovely history of sorts of the state, it was quite suited to the conference.  Check out her website and the sweet book she has published with those paintings.
The next session I attended was given by Dr. Janell Drone – a really amazing woman.  She experienced segregation and desegregation as a growing child and young woman and brings the power of that experience in her life to her professional life and scholarship.  She spoke on the Invisible Assets behind the rise of Delaware African- American One-Room Schools and in particular the laws and Pierre S DuPont.  If you don't know, as I didn't, he had over 80 schools built in Delaware in the early 1900s specifi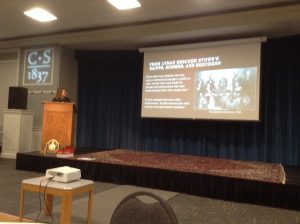 cally to provide education to African American children – really fascinating.
Food at this conference has been phenomenal – a bit like a cruise!  And, of course, I've eaten overly well!  Besides amazing meals with great fresh veggies and fruit, we have been offered snacks!
After a great lunch, I sat to listen to Dr. Allison Speicher talk on New England Teachers, Western Schools: Catharine Beecher's Moral Crusade.   In the mid 1800s, Beecher managed to get a program started, that lasted for about ten years, of shipping trained teachers to the expanding West.  The National Board of Popular Education sent upwards of 600 women to schools out West.  Quite an amazing story.  Check out one of her courses – I'd love to take a class with her!  I'm definitely going to look for a copy of her book.
I really had to take a break for a while and have a walk, so I did.  The oppressive heat wave is subsiding and so I went outdoors and walked about campus for a bit getting some air.
I timed my returning to the indoors in order to play recess games of the 1800s:  "Nooning in the 1800s"!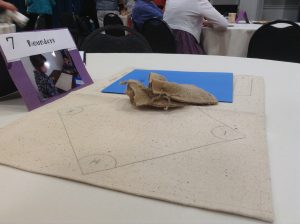 Great fun presented by five women who are Schoolmarms from a local Heritage Commission and Historic Country School.  We got to play with the games including Quoits, Finger Tops, Spindle Tops, Limber Jacks, Ball and Cup games, Graces, Hoop and Stick, and Jump Rope.  It was great to move around, play with toys and other adults, and really consider what skills were being learned through play – making me really wonder what these games brought to the children's development that may not be happening today!
Oh, yes, another meal!
After dinner, the CSAA held their annual meeting – quite interesting.  If you know a country school, check this organization out – I was amazed at the awards and scholarships they give out through memberships and a silent auction at this conference.
For our evening entertainment, the same women who brought up the toys, told us ghost stories.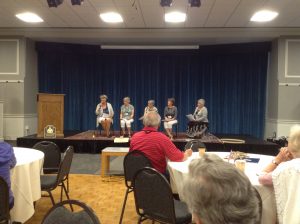 Quite fun, except the ones they told about Colby-Sawyer and, in particular, the dorm where most of us are staying!
Stay tuned for tomorrow's post – the last of the conference — we'll be on a bus all day visiting about eight local country/one-room school houses!