We're having a wonderful time with our daughter and grandbaby in tow! The world is very different with a toddler about!
The Spanish love babies and feel free to look and exclaim at your baby. We had observed this in the other towns we were in; and it's very interesting to have our observations confirmed. They stop and look, they stroke her hand and hair, and tell her mama "muy guapa" (very beautiful). People give her little things like crackers and balloons – very sweet.
Yesterday we took the metro and train system down to Sitges. Since it was Sunday, it only cost the price of the metro – the train was free. (US could learn a bit about how to provide good cost train service.) The outing costs us about $15 USD for travel costs.
It's a beautiful town on the coast. We spent a couple of hours on the beach where you rent lounge chairs. We walked a bit to look at the beautiful homes and had a great lunch.
This is a human pyramid that this town is known for – different teams were taking turns in the square — that's a little bitty climbing to the top!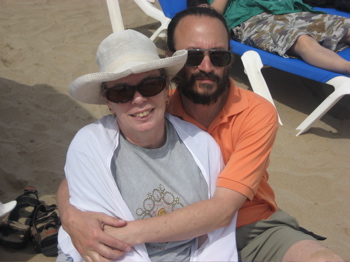 We spend another week here in Barcelona. The family goes home early tomorrow morning. The end of our trip seems all too close now!