We had a great train ride through the Chunnel from Paris to London. It's actually a rather "boring" ride in terms of the scenery (and at least 1/2 hour is spent in the tunnel). We enjoyed first class and were served a nice luncheon type meal while enjoying cozy seats. I was worried about my ears – especially as one of them is full of fluid still from the bad cold I had over a month ago in Spain. But they did okay – I could feel the pressure change in the tunnel, but it wasn't uncomfortable. (Looks like I'll be seeing my ear specialist when I get back to the States.)
We went into one station and had to catch a taxi to another to catch another train to Winchester. (Yesterday we returned to London). We met this couple in Salamanca in school and really hit it off. They are delightful folks and gave us a few days of wonderful hospitality!
The first day they took us to tour Winchester College –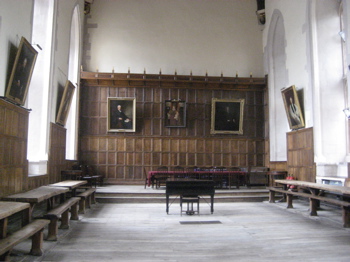 a very old what we would call high school: over 625 years! For you fans of a certain wizard book — does the dining room remind you of anything?
We then went to tour WInchester Cathedral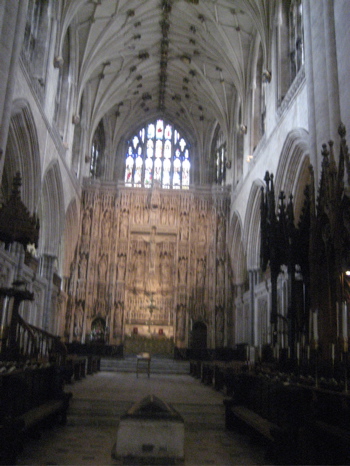 (yes, the one of the old 60's song!).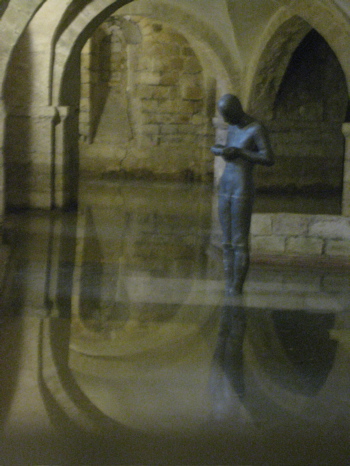 This is a scuplture by Gormley in the cript of the cathedral — really one of the most stunning sights we've seen this trip. This photo does not do it justice at all.
We had tapas at a new local restaurant.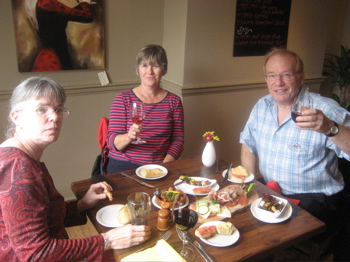 Here we are!
They took us to a town nearby to enjoy an open air sculpture garden as well. We spent the next day touring the Cathedral again, seeing a few things that were closed the next.
Yesterday, they had arranged to come into London and join us and another couple of friends of theirs for an evening at the theatre. We went to see "Como Aqua para Chocolate" in Spanish! Nice way to begin to wind down our trip, huh?!! It was a small theatre in a tunnel under either a bridge or the subway, I wasn't sure. It seated about 100 on benches. It was a great play!
For a couple of days, we'll tool about London and before you know it be on our way home on the Queen Mary II – really hard to grasp actually!