Goodness, tomorrow is our last day of classes here and I've hardly posted anything about Salamanca. I can only blame being ill. We've gone to classes, eaten lunch and had long afternoon naps trying to get better.
You also have to plan things around siesta time. Almost everything but a few small shops for newspapers and such are closed from 2ish to 4ish. Evening lecture and tapas with friends has gotten us home late and with not much time to get homework done!
It's really been a good time. So far of the towns we've lived in and visited, I really enjoy this one the most. It's really quite my speed. At least the old center part of town: we've walked a bit in the newer area and it seems somewhat similar.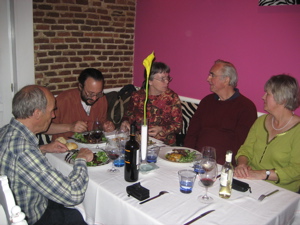 First, here's a group of us at dinner last night at a really wonderful restaurant. We've been in Salamanca for different amounts of time, but all of us are finished on Friday and we were enjoying a meal together. Only person missing is the hubby of the woman in green taking the picture. We've met some really fine folks at this school.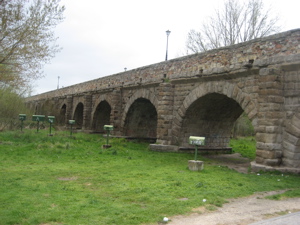 This is the Roman bridge that you can walk to/from the old section of town. I haven't posted the Roman acqueduct that we saw in Segovia over the weekend as yet: this is very small in comparison yet still wonderful in terms of the history of the town.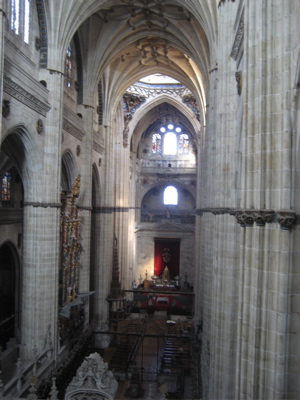 Like all the towns we've been in, the churches are a main part of the central area. Salamanca has two cathedrals: the "old" and the "new." The old cathedral was built in the 1200's – the 'new" added in the 1500s! They are built in a connected way; so the really cool thing is you can walk up high and look down upon the new cathedral. You can only walk outside along some of the outside of the cathedral which is really wild. It's not often you get to look at gargoyles face to face while they're doing their work!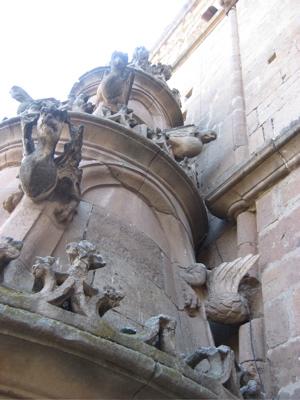 This below is a picture of a several year old library in the University of Salamanca – just breaktaking to those of us who love books. There are books on the shelves that are as old.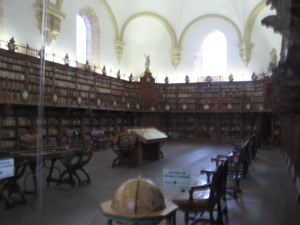 Salmanca is truly beautiful. Tomorrow we spend the day on the train to Barcelona and don't know when we'll find connection again. Stay tuned!
And last, but not least, for my Avi-do. A bit of window shopping for you: