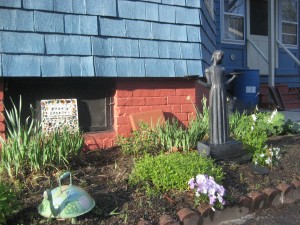 Nana's Garden is a little plot next to my large Victorian on a city lot.  It is a little bit of garden between side entrances, and the house and the driveway.   In it, over the 10 or so years I've treasured this old house, I've tried various plantings in it.  Mind you, I'm not a very experienced gardener.  I love things that allow me to torture them unexpectedly – like hostas.  It's amazing what I've done to hostas and somehow and for some reason they like me anyways.  I tried hostas in here too.
In Nana's Garden, this April, with the early and very warm spring we are having in Massachusetts, I've gotten a jump start — actually the garden got the early start.  I just managed to find time to clean it up early.  It spends the winter covered in leaves and mulch of various sorts.
Today in Nana's Garden the daffodils have seen their spring and left us already.  The bleeding heart is blooming; and the other is thinking about it.  The miniature irises – that a friend gave me – are working hard.  The lavender is sprouting and sending off its lovely smell, and there's even a few volunteer surprises blooming.
Nana herself – or at least a third of her ashes reside in the area below the basement window.  Nana was my husband's mother. I think she would approve of our garden in her honor – although I know for a fact she'd have a few things to say about it!  In summer, her favorite flower, the dahlia, will bloom in the empty places in her honor.   She was an educated woman for her day, and a very intelligent woman.  Like all women, she wanted what she thought best for her first born, and only son.  I wasn't necessarily it.  She and I tolerated each other's presence – it helped that I came up with two gorgeous grandchildren for her (at least I think so!).   In the end, like the flowers, we tried our best to bloom around each other because we both loved the same man.