Iceland — do you know where it is?  What do you know of it?   I'm always first to admit that my geography knowledge is sorely lacking!  The benefit to me when I travel is that I finally figure out where in the world that place is located!
So first, go here and check out the map of countries:  www.geology.com.    Then, click on Iceland – I'll give you a hint, on the map it's orange and it's in a very cold part of the globe!
As I mentioned, we were with a tour with Road Scholar for about 10 days, then on our own for a few days at the end in Reykjavik.   We flew out of Logan and into Reykjavik (their capital – more on that at a later date).  We were picked up there by the tour company, enjoying the famous Blue Lagoon on our first day, spent some time in the south, then began our trip up to the Western Region, through the northwest region into Akureyri (their second largest city) and parts of the Northeastern area, before flying from Akureyri back to the Reykjavik area where we finished a couple of days there mostly seeing what's known as the Golden Circle, making a nice round trip.
Where to begin?  When I'm finished with a trip, I know what I've learned and have impressions of the people, the food, the weather, and all of that — how to recall what I had hoped or thought I would experience at the beginning?
I thought there would be little English, that the land would be like the moon, that I was concerned that a volcano would erupt while we were there, and I'd heard there were many sheep, special horses and a lot of yogurt!  You can thank that on the recent influx of Skyr into American markets!  (This link is just to one company – there are several companies producing it on the island – and it was enjoyable to try many – more on that later as well.)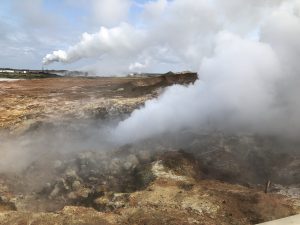 Our first look at a hot spring: Hot spring. (click this for a short video)
More sights on our first day as we adjusted to it being the next day when we arrived, meeting new people, and wondering what lunch would be!
Why do you travel?  I travel for many reasons, one of the most important being I'm a curious person.  I want to know more and I want to make connections between what I think I know, what I know and what I'm learning.
So, next entry I'll tell you more about my experience at the famous Blue Lagoon and some other first experiences on my trip!
I read a lot before I travel.  I do believe that this is one thing that separates me from many tourists.  I read novels, murder mysteries, travel memoirs, and travel books such as Rick Steves (personally, I think he has some of the best out there).  There are always Facebook interest groups – this was one that I found particularly helpful.
Here's a couple of the books I read — good reads whether or not you're going to Iceland!
"Letters from Iceland" by W.H. Auden and Louis MacNeice. 1937
I'm just reading this — a travelogue of sorts. If you like Auden's poetry, you'll enjoy more of this. There are some fascinating old pictures in it, and information about an Iceland that I'm sure is a bit different than today! And, a great map in the back – the driveable roads are very few – he did a lot of his exploration on horseback.
"Butterflies in November". Audur Ava Olafsdottir. 2004. A memoir of life after a divorce and visiting parts of Iceland with someone's child. A fun read.
Burial Rites. Hannah Kent. 2013. My favorite so far. Historical Novel set in 1830s about Iceland's last execution of a murdurer — really fascinating and incredibly well written. I don't know if the tour goes there, but a plaque marks the spot of the execution at a place called Pristapar.
Names for the Sea: Strangers in Iceland. Sarah Moss. 2012. A professor and her family spend a year in Reykivik. teaching and living. A fascinating look at being an "outsider."