So, we've arrived in Iceland!  We left on a Sunday at almost midnight and arrived in Iceland about 9 a.m. the next day (just a bit over a 5 hour flight).  We're tired, but had at least slept a couple of hours on the plane, but super excited.
We were met by a taxi driver bearing our name on a placard,  who took us, and a couple of other folks about half an hour or so to catch up with the tour.  There were only 23 folks, but everyone, of course, had come in at different times.  After we were dropped off and looked at this beach area for only a few minutes, the bus had to go back to the airport to pick up the last 5 travelers – sadly no taxi was available to fit these last folks and their luggage.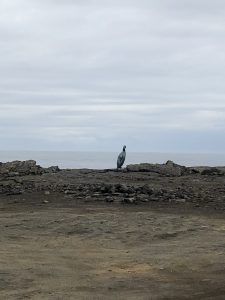 A statue of the Great Auk stands on the cliffs at Reykjanestá, near the location where the last mating pair was killed in 1844.
So we load our luggage from the taxi into the bus which we would be in and out of for about 10 days, driven by a fabulous driver whose name I sadly forgot to write down.  The Icelandic language is quite challenging and if you have any doubts – have the person write the word – as Icelandic, to my English speaking ears, sounds nothing like it looks like on paper!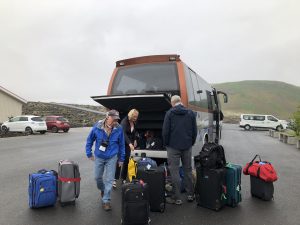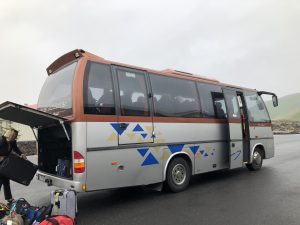 Our first destination after all travelers are picked up at the airport is the Blue Lagoon and then a local hotel, just near it for the first dinner and night of sleep.
On our way to the Blue Lagoon, we stop to see some steaming hotsprings (see the previous blog post for a short video), see a geothermal plant and the first of many horse sightings: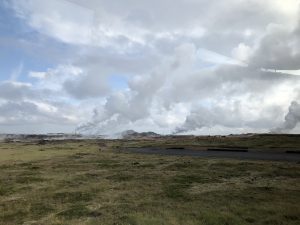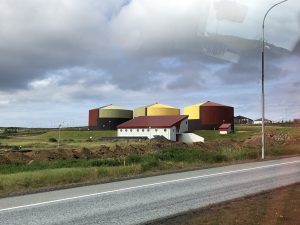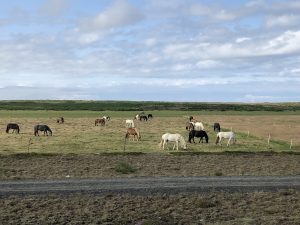 The beautifully painted round structures are hot water storage units that we would see often in the countryside.
There are over 80,000 horses in Iceland.  Many as well in other countries.  I'll tell you more about these animals in a future post as we went to a horse farm for a visit and a demonstration of the famous horse (just don't call them ponies!).
Finally to the Blue Lagoon!  Well, this is bound to upset a few gazillion folks who find the Blue Lagoon a must.  I'm not a hot tub person, and from way back when we signed up for this tour, I was pretty certain I might not experience it.  To be open about it, I asked opinions of Facebook pages devoted to Iceland advice and some other folks who did enjoy it.  My husband and I decided to not take the plunge, so to speak.
It is indeed a gorgeous site — full of people kind of gorgeous.   Rick Steves says that it's "arguably Iceland's most famous attraction."  It's only 45 minutes from Reykjavik so lots of folks do it on a stopover or a part of the last day or first day, just as we were doing, when they arrive or depart.  Folks soak and enjoy the thermal and truly milky-blue water.  Part of the beauty is indeed the water's color.    You need to have reservations, so if you do want to try it, be sure to do that ahead of time.
It is set among rocky lava scenery — the moss of which was grey when we arrived.  It rained over night and the next morning the fields of grey lava was gorgeously green because the moss had turned green with the water – that was amazing!
The Lagoon is young and came about in the 1970s when they drilled for hot water for heating.  The water wasn't good for pipes, it's salty and have a high mineral and clay content; but they used it for a heat-exchange system.  The silica clay gives the water its texture and, of course, sunlight, gives the water its blue color.  They fenced it off, and began to charge admission , etc.  Today, you pay, get some towels, condition your hair, shower and off you go.  There is a bar and a mud station if you want to put the clay on your face.
So, my experience?  As I said, I'm not into hot tubs, so we got a coupon for a free drink from our tour company.  There's a sweet cafe, an open air patio next to and one floor up  – we took a drink and sat and watched.
My shock — it looked like a big pool, not a wild setting in the lava fields!  The online and social media pictures made it look, to me, as though it was open in the wilds of the lava – nope!  Totally walled in, with cement steps and railings and full of people.  And, no shade, unless you want to stand in the water under a foot bridge in the middle of the Lagoon.  So I was completely okay with not going in.
After we sat for a bit, we went back outside, where more of the water is surrounding the official pool and buildings and walked around there a bit.  Although we didn't have the time, and would have needed a map to do it the first time, we were told that you could do about a 20 minute walk to/from the Blue Lagoon to our hotel.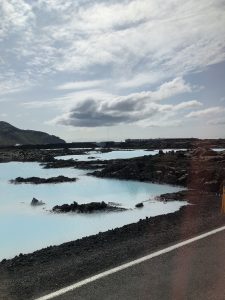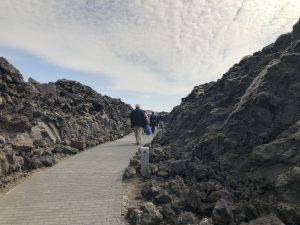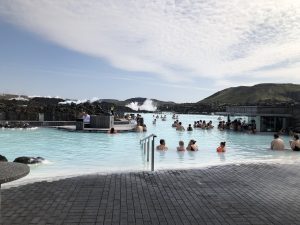 This first picture on the left is the lovely walk and nearby water outside the official pool and buildings.  The center photo is the walk from the parking lot to the entrance, and a shot of folks in the Lagoon from the patio area for those not going in.  If you aren't going in, you cannot go inside the walled off area – bathers who have had showers only.
We were ready to get some dinner and shut eye by now.  So back on the bus to our first hotel of the trip, the Northern Light Inn.
We end our day finding this wonderful bulletin board in the lobby.
  "So much of who we are is where we have been."
Indeed.  So, I didn't go in the Blue Lagoon – the thing about travel is you can so often choose what you want to do with your heart and mind and allow yourself to take in experiences that fill your soul.