Well,  nothing really!   However, overnight visitors, line dancing in the Fair Parade, and enjoying an amazing late summer weekend will keep me from getting my blog entries about Iceland finished!   So here's a few pictures from a great weekend of Fair and good friends!
So now that we have cleared that up, let's get back to Iceland!
We are still in Northern Iceland in the town of Akureyri where we begin our day in the hotel at a lovely breakfast.  The hotel is situated right downtown, a block from the fjord, looked down upon by a huge church (which sadly was locked the entire time we were there so we didn't get to look inside).
After breakfast, we walked a couple of blocks to a hall that I think was the local Lion's Club space to hear a lecture on Iceland's geology.  One of the things the lecturer shared with us that intrigued me because it had to do with children, and nothing to do with geology, was that Ash Wednesday is a lot like our Halloween.  Children dress up and create songs and skits which they bring to work places to perform and get treats, all of which is done by lunch time.  But, that aside, we learned a great deal about the volcanoes, solfataras, geothermal and other geological features of the country.  It really helped us understand what we had been seeing, both from the bus windows and on our various stops to walk/hike and look around.
Before I forget, let me mention  that it was quite cold – only in the upper 40s – and very windy with rain on and off all day.  Today we wore all the onion layers we had brought – we were quite comfortable with our SmartWools that's for sure!
We then drove for about an hour to the Lake Myvatn area;  enjoying a magnificent waterfall and a sulphur steam thermal area with bubbling mud and pseudo craters.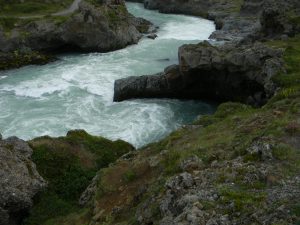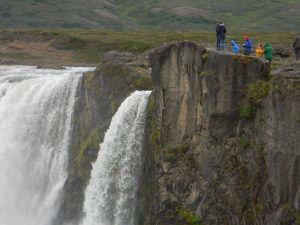 (P.S.  Notice the tourists doing what all tourists are asked NOT to do in Iceland — off the marked trail and seeing how close to the edge of life you can get to get a selfie!).    We stopped for an excellent buffet at Sel Hotel Myvatn near the pseudo craters.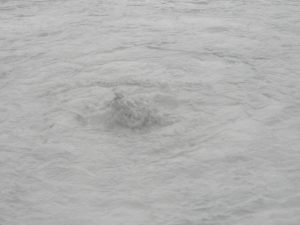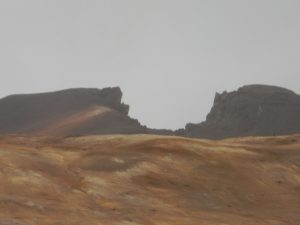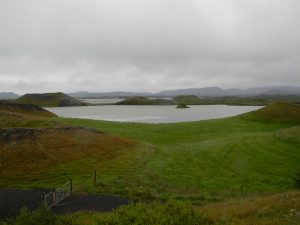 The word "Myvatn" in Icelandic means "midge," a small but annoying fly that apparently can be so many that it looks like black clouds are surrounding you!  And, we didn't see a one!   It was too cold and rainy, so I have to admit that the one item we packed – our head covering mosquito nets – did not get used.
After lunch, a drive to Dimmuborgir to see teh "Kissing Trolls."    Trolls, hidden people, and other creatures are an important part of Icelandic tradition and story.
Our food today was a lot of lamb based food and lots of veggies.  I had the most amazing lamb soup of the whole trip, and tried something called "Sheep Head jelly" — not jelly at all, but I think likely a type of "luncheon meat" at Sel Hotel Myvatn.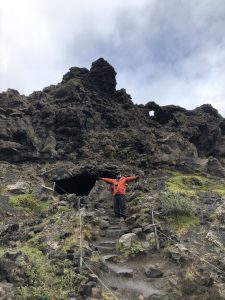 And, just for fun, here's a link to a really fun book that I bought as a souvenir for the family about Iceland's Trolls.  The author, Brian Pilkington,  has a great collection of books, and if you're looking for a fun, and different, read, that will make you smile – this might be a good choice!
Stay tuned for another wild weather day in Northeast Iceland!