Onwards to the north of Iceland – or at least part of it.  Today's journey takes us to Iceland's second largest city: Akureyri.  When we arrived it was 45 degrees, starting to rain, and the weather would get even more interesting!
Let me say that anyone who is packing for Iceland, do follow all the suggestions given to you about dressing in layers as if you were an onion.   We did, and these were the days that we would wear almost continually for three days, all the layers we brought with us.  Wool products were the best in terms of socks and next to your body layers.
Our day started with about a 1 and 1/2 hour bus ride, when we stopped at a truck stop for refreshments, and necessaries.  I actually really like bus and truck stops when we travel.  Yes, they have a lot of souvenirs, yet they also have the local truck and bus drivers and local families going on their trips.  And, as a result, I find they sometimes have the most "authentic" snacks that the locals are likely to enjoy.  We love trying candy and sweets when we travel and truck stops generally have all the choices.
After the stop, a shorter bus ride to Gauksmyri Lodge to enjoy an Icelandic horse demonstration and lunch.  (Check out the last picture in this blog about the Lodge's bucket list — look closely — I bet there's something on there you've never thought to put on your bucket list!)
I know very little about horses– one important item for these folks was that you call them horses, and not ponies.  They were gorgeous.  We enjoyed a great show of four horses by the handler, owner and two young people.  They told us about the horses history, and their place in Iceland in olden days and today.  We then went to the stables to visit with the horses up close.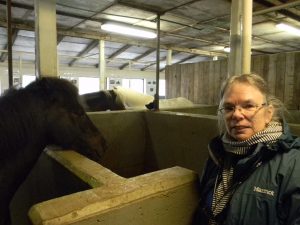 After the visit to the stables, we had an incredible lunch of soups and salads: tomato soup, sweet potato soup, and dessert was a crepe with whipped cream (we had a lot of whipped cream in Iceland.  They don't give you one little dollop either – but a huge serving – yum!)
As you can see from the pictures, it was cold.  The demonstration was outside on some bleachers and they provided really warm blankets.   I inquired about the blankets later, and as it would turn out, eventually I would buy a sweater made by the company.  One of the young people we met on the horses and in the stables was the son of the family who owned the wool business.
After lunch, back on the bus and off to the  Heimilisidnatarsafnid Textile Museum.   It was a new building built in 2003.  They house embroideries, national costumes, wool items and annual exhibits of arts from Iceland.  They also have a room dedicated to a well known woman  (1873-1981) in Iceland who saved and created many beautiful textile items. This was one of my favorite stops on this tour.  I could have spent much more time here – given I love to embroider and do crewel work; I really could have spent hours in this little place.  We were given about 40 minutes, and, of course, other travel mates weren't half as excited as I!    The museum is also on Facebook if you want to follow them – I really recommend a visit there if you get to that area of Iceland.
Here's but a few of the amazing items this museum had – the handwork was extraordinary.   One of the things I want to mention about this museum is that they offered cotton gloves – you could put a pair on and you could touch anything in the museum for a closer look!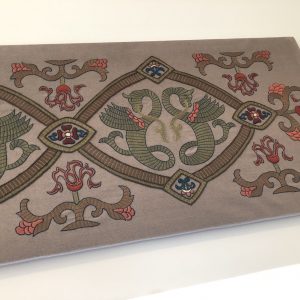 And, as we went from bus to museum, it rained sideways!  We'd been told this was one reason rain pants and coats were the way to go, and not an umbrella in Iceland.  We found this very true – the wind is just too constant and too strong for hats or umbrellas.
It was a busy day, so another 40 minutes on the bus brought us to the Glaumbaer Turf Farm House.  Really cool, that's for sure!  Another place, we could have spent a good deal of time.  So fascinating.  Hubby and I are thorough museum folks – that means if someone else spends an hour, we spend three or four.  We love to read most of the displays, ask questions of the docents, and then put that information into context and connection with our other learning.   That is one big reason I think I call myself a traveler and not a tourist.  We don't travel to just "see."
Old Icelandic farms were a complex of buildings (really the size of a large room each) united by a central passageway.  This farm had fifteen rooms, not just kitchen, bedroom, but smithy, room for the diary, pantries, storerooms, etc.  If you have harsh winters, this was clearly the way to make it through those winter days! Dirt floors, turf walls.  Folks lived in this type of housing until well into the 1930s in the rural areas of Iceland.
Just a few pictures of the Turf Farm: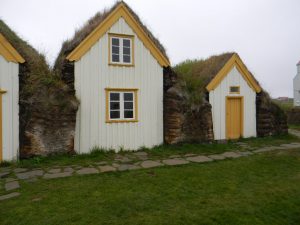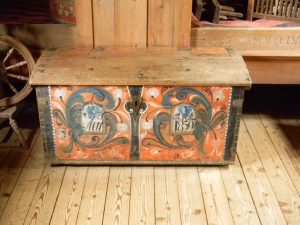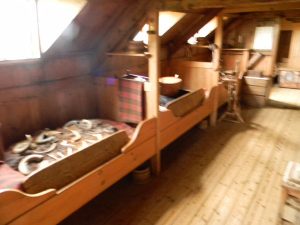 The main area contained 11 beds, and since each bed could accommodate 2 people, up to 22 people lived in this complex.  Each person worked and ate in their own bed.  Can you see the board inserted into the front edge of the bed?  That kept them tucked in at night.  Each was personally inscribed and decorated with a prayer.  And, they were not heated!
And so at last, we make it to our destination.  What a full day we've had.  After checking into our hotel, we had time for a short walk about the downtown area.  The rain had stopped for a bit, although it was still cold.
Here's a few last pictures from today's traveling experiences:   One a great bucket list from the Horse Farm, and the last – look closely — at the stop lights in the lovely town of Akureyri.